The Dye DAM is one of the coolest paintball guns out there. Why? There are several reasons why. We will go over them quickly in this little post.
For starters, this is one of very few guns that can fire using both magazines as well as a loader, and even both at the same time! What more, switching from a loader to a magazine feed fire mode requires just a flick of a switch!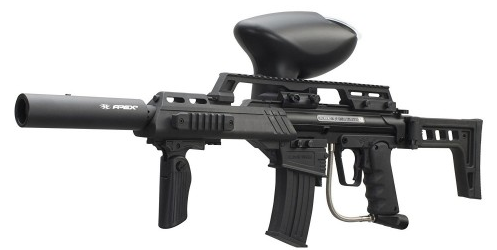 While there are other guns that allow you to use a top loader and also cartridges or magazines, they require you to use the UI board to switch between the two. With the Dye DAM, you can empty out your loader and then flick a switch to use your magazines.
Not surprisingly, this is a paintball gun very preferred by paintball players who like to carry a lot of ammo and those who use sheer volume to win over their opponents. If you are buying this gun, we highly recommend that you don't just get the DAM 20 cartridges that can only hold about 40 paintballs. Instead, get the Dye Box Rotor that can increase your ammo capacity by almost 200 paintballs! Imagine having about 300 paintballs on your loader and 200 paintballs in your magazine.
You are going to be firing non-stop when your opponents have to stop and reload with their pods. It gives you a tremendous advantage when it comes to ammo capacity.
Besides high ammo capacity, this is one of the greatest paintball guns ever made as it is just a very cool looking gun, available in a tan color, giving it a military desert camo sort of look. Like with any Dye product, you can expect a very high level of quality with this gun. It is highly recommended that you use a high quality sights like the Dye rapid acquisition sight to make the most of your ammo, using great sights that will increase your accuracy no bounds!